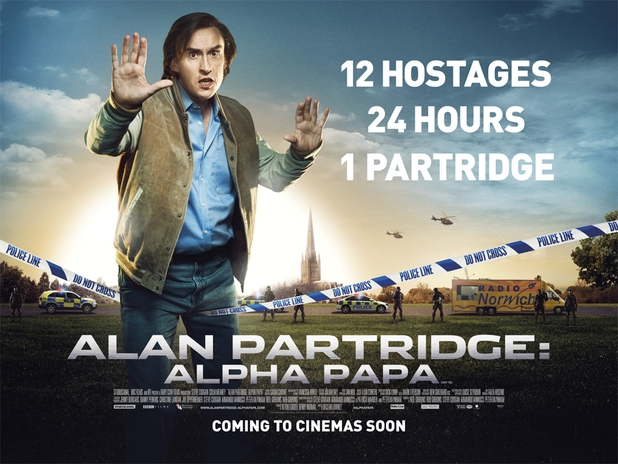 If you don't know who Alan Partridge is then shame on you, but at least you have a brilliantly funny journey to set yourself on. Alan (the comic creation of Steve Coogan) is a sports reporter, turned chat show host, turned radio broadcaster and over the past 20 years we have followed him on the highs and lows of his journey, most recently ending up at the local radio station North Norfolk Digital (NND, for short), and that is where we join him here.
NND has been taken over and rebranded, and the new owners are intent on reshaping it and getting rid of some of the dead wood. Specifically, either Alan or another older presenter, Pat, played by Colm Meaney. At first Alan is intent on saving both their roles but when it becomes apparent in a brilliantly funny boardroom scene that it is either/or the message is clear, Just Sack Pat. But Pat goes postal, returning to a staff party with a gun and taking everyone hostage. He feels that Alan is the only one he can trust and so uses him to negotiate with police, a role Alan loves – he's the centre of attention and he's important again.
British sitcoms have a long and storied history of being transferred to the big screen, without a huge amount of success. In The Loop was a brilliant spinoff from The Thick of It, and The Inbetweeners certainly brought in the crowds without hitting the heights reached by the TV series. This, then, may represent the first genuinely successful translation, though it's really the character rather than a sitcom that's making the move.*
I said in my review of The World's End that it was one of the most enjoyable films of the year, well Alpha Papa happily sits alongside it. It works for the same reasons, both the plot and the laughs spin out of who the characters are and it remains truthful to those characters at all times. It is certainly funny. From the opening sequence, resulting in Alan lip-syncing to Roachford's Cuddly Toy, right the way through to the last dramatic moments, comedy is found every step of the way. It never strikes a false note and delviers everything you could ask for. But to be fair, that's what should be expected from Coogan and writing/producing partner Armando Iannucci.
What makes the character so brilliant is that he is, for wont of a better term, a bit of a dick. In fact, he is the 'bit of a dick' that lives inside us all, and that Cuddly Toy sequence is the perfect example. I'm sure that plenty of people do that in cars – I know I do – but Alan really throws himself into it and does a far better job than most of us would. Likewise, later on (and in the trailer below) when he walks along a corridor briefly doing some Saturday Night Fever type moves – we all do it at some point, and we all think we look like Travolta, but really we look like Alan. Alan magnifies the worst in us and for that he gains our sympathy. For us, we get to file those moments away and think that God I'm not like that the other 99% of the time, but Alan is like that always, and we love him for it.
And here, finally, Alan gets to be the hero, and he does it in the way that we would be a hero, not in the way Bruce Willis would. And for that, we don't only love him, we finally respect him.
A
Film length: 1hr 30 mins – Feels like: 1hr 30 mins
*In fact, while In The Loop is a spinoff, it's probably fairer to call that a sitcom transposed onto the big screen than it is with AP.