Stoker is an interesting film in many ways. It has unusual rhythms and beats and often leaves you a) slightly disconcerted and b) unsure of what direction it is going to head in. If you ask me, these are all very good things. Add to this the fact the film is anchored to an incredibly assured central performance from Mia Wasikowska, a young woman is making a big name for herself on the back of a number of interesting roles starting with The Kids Are All Right a couple of years ago, and you have a very impressive film.
Chan-wook Park makes his English language feature debut here, after carving a highly successful career in South Korea where he helmed Oldboy amongst others, and Stoker only serves to further his reputation, taking the opposite approach to his contemporary Jee-woon Kim who directed the distinctly average Arnie vehicle The Last Stand. Where Kim chose to take a bigger budget film to push himself forward – a route which may have seen him having to make compromises over the direction of the project – Park has a smaller offering which allows him greater control and the opportunity to make something all the more interesting.
So… the story after this poster (you're getting three posters here, because I like them all):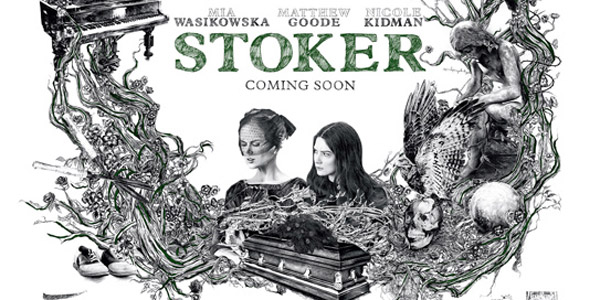 We join the film shortly after the death of Richard Stoker, father of India (Wasikowska) and husband to Evelyn (Nicole Kidman). At the funeral, Richard's long lost brother Charlie (Matthew Goode) mysteriously arrives – an especially mysterious event for India as she never knew she had an uncle. Charlie has both a charm and a menace about him, something which works on Evelyn, but India is more suspicious. She was always very close to her father and she's not so happy about the way Charlie seems to want to ingratiate himself into the family and perhaps take on that role. Things take a darker turn and India has to decide on what course her life is going to take now that she has reached adulthood (her father died on her 18th birthday).
The film is quite happy with its schlockier elements and actually, after the earlier mystery over the direction it might take, settles on a familiar route, but that's not a complaint. It's a great ride, paced superbly, packed full of dark humour and directed with a confident hand, the angles of shots adding to the off-kilter feel of the film.
All in all, Stoker is a bit of a treat and something well worth seeking out. It's going to be quite unlike anything else we see this year. If you think you might be interested but need convincing, watch the trailer below. It's a great example of the form, giving you a stylistic feel without compromising the story.
B+

(Even more unsettling with the sound off)