Mark Thomas – 100 Acts of Minor Dissent – Ashcroft Arts Centre, Fareham – Friday September 13, 2013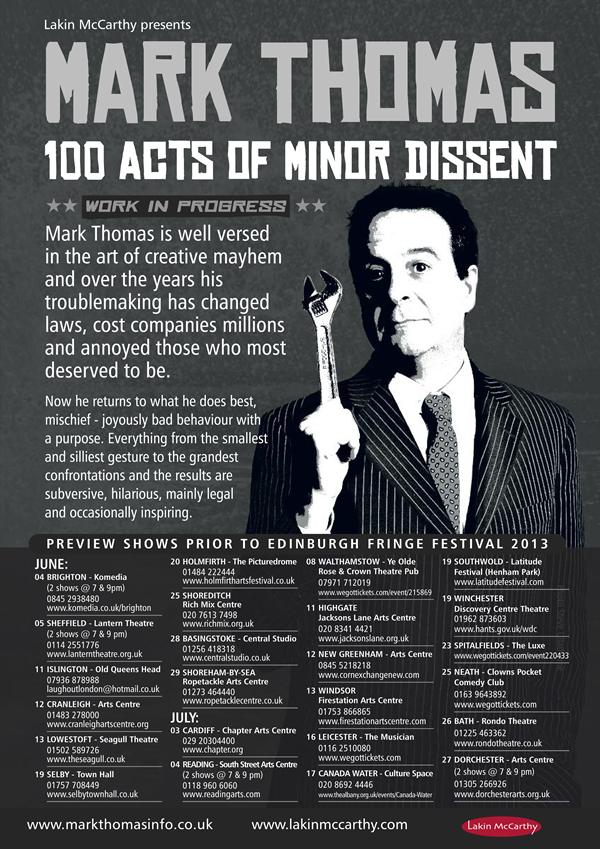 I've been delaying writing this review, not because I didn't enjoy myself, but because I really wasn't sure how to approach writing it. I'm still not but I have to give it a go. You see, Mark Thomas has, one way or another, been a part of my life for almost 20 years, and I have seen him live so many times and with so many different people that he means a lot more to me than just a being a comedian/activist. I still have a VHS copy of his Sex, Filth and Religion show from around 1995 and a year or so ago showed it to my other half. While naturally for comedy with a significant political element some of it is rather dated, much of it is still hilarious and I was also pleasantly surprised/scared to find I could recite pretty much the whole show along with Mark. Maybe it's because of the point in my life where that show came along, but I do view it as one of the funniest comedy sets available (and I implore Mark to either get a DVD or digital copy available so I can finally be rid of my VCR).
Mark Thomas was, I think, the first comedian I saw after I got my driver's licence and hence could get myself (and my friends) out to gigs. I saw him at the Wedgwood Rooms in Portsmouth. I'm not sure what the show was called that time, but it featured a section called "Have you ever stolen anything from work?". Previously supplied answers included cocaine (from a vets in Manchester, used to knock out the dogs before operations) and a freezer, and at our show a blow-up doll was added to the list.
I dragged my first serious girlfriend up to Balham to see a Work In Progress show, and had the opportunity to have a quick chat with Mark pre-show. I watched and recorded every episode of the Comedy Product on Channel 4, later, just the Mark Thomas Product as the comedy took a back seat to some important issues (though even in the bleakest of stories, such as those around the Ilisu Dam or Palestine, Mark has always found the comedy along with the tragedy). I've seen Mark's campaign against Coca-Cola and the way that company destroys (or has in the past destroyed) communities in South America, Africa and India. I've seen Mark discuss the various arms fairs he's been to – including the episode of his show where he aired footage of someone from, I think, the Indonesian Embassy admitting to atrocities – something no one had ever managed to achieve before. Earlier this year I saw, and reviewed, Thomas performing Bravo Figaro, more a theatre performance piece than stand-up comedy, which gave me more insight into his own life and times, and filled in large pieces of his own history for me.
So there is a huge weight of history on any performance of his that I go along to. He's achieved so much and I have enjoyed so many shows in the past, added to which I have my whole adult life history attached according to who I went with and what was happening to me, and, since this year, I have Mark's own family history to add to the mix. And while Mark clearly doesn't know who I am, this has all led to me feeling like there is a long deep-seated relationship.
Halfway through 100 Acts there was a part of me that was feeling like it was a relationship that the spark had gone out of. Perhaps it was time to call time on the whole thing and divorce ourselves; accept that we have gone our separate ways but remember the good times. That first half contained some duplicate material from the 'warm-up' section before Bravo Figaro, and it was material I had taken a dislike to, predominantly based around Mark's disproportionate levels of hatred for the book One Day by David Nicholls. It's not the target for his ire that I had an issue with – I have read it and I thought it was fine, but everyone is entitled to their own opinions – but I felt it was overblown, unnecessary and, most importantly, not funny. His description of the book makes it sound as though the book had raped his sister and given his mother cancer rather than been a self-important middle class fantasy love story that was perhaps a bit more successful than it deserved to be (which is a view I could understand a lot more). But I also felt that he went against himself in his character assassination of the book, as later on in the first half he mentions how he views books as sacred items – something which, it seems, they can only be if they meet with his approval. And, I mean, it's not as if his target was Ayn Rand, a woman who's literature is currently forming a central strand of political thinking in the Republicans in America, this is a book that will be largely forgotten in a few years time, it's inoffensive, and it isn't likely to be cited by George Osborne as the reason he's cutting unemployment benefits; its effect on society will be minimal.
Anyway, Thomas used this description as a gateway into his forms of middle class urban terrorism which includes leaving heckles in the middle of books in Waterstones, putting his own versions of branded signs up in supermarkets and putting replacement posters over estate agents' signs, each of which form a part of his 100 Acts of Minor Dissent.
And now I have to make a confession. At the interval I was sat in the lobby of the venue with my partner talking about the show. Our seats backed onto a wall and on the other side it's entirely possible was Mark's dressing room, because, you see, at the start of the second half Mark seemed to reflect back a couple of the comments I had made, namely that "someone isn't sure if I'm being an activist or a comedian". That isn't quite the point I had been trying to make but it formed a part of the conversation we had had. The whole show had been introduced with Mark telling us he had to commit 100 Acts of Minor Dissent by the middle of May 2014 or he'd have to give money to UKIP. He never said why he had to do this. There was never an underlying point to the exercise, it seemed to just be a thing to do to make a show about, and this was the point I was trying to make. Is he doing these things because they will be funny and will give him material to entertain with, or is he doing them to make a point about the country and the world we live in and, in some way, to try to make things a little better be it through awareness or changing perceptions?
Another way you could look at it would be is he performing the Mark Thomas Comedy Product, or the Mark Thomas Product? A subtle distinction but perhaps an important one. The first half felt to me as though this was supposed to be the latter and yet the acts described tended to be somewhere between 'quite amusing' and 'a bit dickish'.
I don't know what changed – maybe my words (if they were my words that were overheard) came down like a challenge? Maybe I lightened up, or lowered my defences, or my expectations based on the 20 year relationship I'd had with Mark? Who knows? But in the second half I found the show hilarious. Something just clicked and it was like watching Sex Filth & Religion all over again. It was Thomas back to his comic best. A weight lifted off my shoulders. The insight was back. The skewering of the world we live in was as sharp as it ever was. The cheeky-chappy persona was front and centre (by which I mean that when Thomas is on top of his game he has a persona with which he can call you the strongest, rudest names under the sun and you still want to shake his hand). It was like we'd been through a long tunnel and had suddenly burst out into bright sunlight. This wasn't a relationship that was on its last legs, this was a relationship that had been going a long time, there had been ups and downs, but there was a lot more life in it yet.
B+
Ha! And here's Sex Filth & Religion so you can see for yourself what I mean.